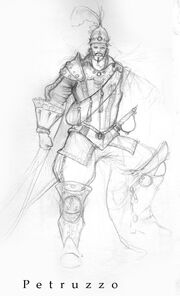 Petruzzo Giamba is the elder brother of Giacomo and Lord of Miana. His assassination by the Doge of Venucci triggers a drawn-out conflict extending across the main continent of Aio.
Petruzzo inherited the rule of Miana from his father, under whom he had been groomed extensively for this responsibility. Petruzzo maintained a close friendship with his father's military advisor General Carlini. While his reign was short-lived, it is clear Petruzzo intended to rule Miana with a just and firm hand.
Characteristics
Edit
Like his father, Petruzzo was a man of action, emphasizing the military aspects of his position over the technological approach taken by his brother and successor. As a symbol of his martial position, Petruzzo wore a helmet and armor when he travelled. Despite their differing personalities, Petruzzo clearly respected his younger brother's inventive genius, giving Giacomo free reign to indulge in his interests prior to the tragedy at Vernazza.